The Jeep not only gets You wind in Your hair, like Your average sports car, it also gives You the freedom
of venturing into nature, of penetrating forests, fording rivers and climbing mountains.

The Jeep is the total sports car, the ultimate freedom machine.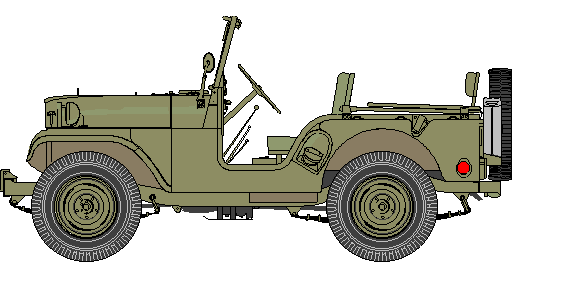 General
The design of this truck locates the four-cylinder gasoline engine forward of the passenger compartment under the hood and provides a four passenger, open type body. This body can be inclosed with removable canvas top, side curtains and door held in place and supported by suitable metal rods and braces and canvas straps. Provision is also made for the installation of a metal top. The utility truck M38A1 is used as a general purpose personnel or cargo carrier especially designed for adaptation to general reconnaissance, command communications, or other special duties. The design and construction of the windshield is so that it can be folded forward to lie flat on the hood for low silhouette and forward firing. The spare wheel is mounted on the rear panel and suitable brackets and compartments are incorporated in and on the body for the carrying of equipment. The frame is equipped with a pintle hook at the rear and lifting hooks at the front and rear to permit towing or lifting vehicle. It is capable of operating with the engine completely submerged in water.
The M38A1 was the replacement for the M38. Unlike other military vehicles where the A1, A2 suffix denotes a minor revision (e.g. M151, M151A1, M151A2), the M38A1 is a very different vehicle from the M38. It has a different frame, body, engine, and axles. The M38A1 was produced in large quantities for the armed forces of the United States and several other countries. Production also took place in Canada ( M38A1CDN assembled by Ford Motor Co. of Canada ) the Netherlands ("Nekaf Jeep", assembled by the Nederland se Kaiser - Frazer - Fabrieken, later by Kemper & Van Twist Diesel ) . The M38A1 was the first jeep to drop the flat fenders for a more rounded, aerodynamic look. Because of this, it's easily distinguishable from the earlier jeep models. The M38A1 got so popular it was introduced as the CJ-5 in 1955 thanks to it's design. Power for the utility truck M38A1 and M606 is supplied by a "Hurricane Engine", an F-head type, four-cylinder, gasoline Willys-Overland engine of 134.2 cu.in.(2.2L)
Identification plate
This identification plate is located on the instrument panel at the right of the instrument cluster or behind the passenger seat frame. This identification plate includes vehicle name, serial number, manufacturer's name, part number, model number, contract number and ordnance stock number.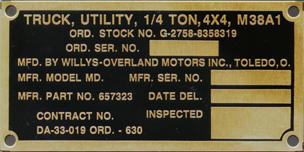 Thank You for stopping by, enjoy Your stay.
This page was last updated on 04-06-07
Copyright © 1998, 1999, 2000, 2001, 2002, 2003, 2004, 2005, 2006, 2007, 2008 all rights reserved by -Lasse - Leksand - Sweden.